Your Guide to Snow Fun in the Smokies Winter Activities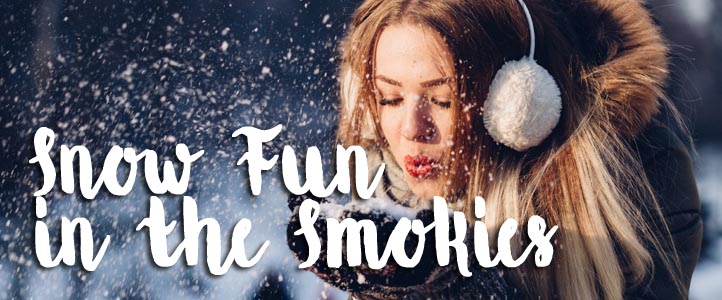 03
Jan
2023
If you've got a need for speed, snow and ice, you've come to the right place for winter activities in the Smokies. For the remainder of winter, you can ski the slopes, slide on snow tubes, and glide across sheets of ice.
Skiing, Snow Tubing, and Ice Skating
There's no need to fly out west when you've got of winter activities in the Great Smoky Mountains of East Tennessee nearby. While we may not be known as the Ski Capital of the World nor rival Aspen or Vail, we have lots to offer for affordable getaways that feature snow filled, wintertime fun.
Skiing
Ober Mountain, also known as Ober Gatlinburg Ski Resort and Amusement Park, may have a new name but they've got the same great winter activities that couples and families have clamored to for decades.

Skiing or snow boarding, the choice is yours! Ober does not sell ski tickets online or make advance reservations, but you can check out which slopes are open and also the snow conditions before you head up the mountain. There are 10 slopes available from a beginners "Cub Way" to the advanced Terrain Park, and 6 intermediate slopes in between.

The ski slopes operating hours vary, but your ski ticket is good for unlimited use during your session. While we always recommend verifying hours before you go, these are current as of this writing:
Monday-Friday: Noon-9 pm
Saturday: 9 am-9 pm
Sunday: 9 am-6 pm
Snow Tubing
Unlike skiing or snowboarding at Ober Mountain, snow tubing is a year round activity in the Smokies. And, you can purchase tickets in advance! And we recommend that you do. Snow tubing tickets sell out quickly, so you'll likely want to purchase yours before you leave your hometown.

If tickets are sold out at Ober Mountain, have no fear because Gatlinburg isn't the only place to find snow tubing lanes. In fact, Pigeon Forge has two easily accessible locations with equal amounts of fun open all year! They are Pigeon Forge Snow and Rowdy Bear Mountains. Here are all the details:

Ober Mountain Snow Tubing: 90-minute sessions have you sliding "Tubing Hill," a fast 50′ drop down 350′ lanes. Advance ticket purchase recommended. Seasonal summer tubing also available.

NOTE: As posted on the Ober Gatlinburg web site, "Due to the high demand for tubing and the large number of guests on Weekends & Holiday Periods, you may encounter a wait time of 2 or more hours via the Tramway or parking on the mountain. If mountain parking is full, you must take the Aerial Tramway from the Downtown Tram Mall. Please schedule your time to allow for delays to prevent missing your scheduled tubing session as no refunds or exchanges are allowed. Tickets are non-transferable and not for resale."
Pigeon Forge Snow: Just past the Mountain Mile on Teaster Lane is indoor snow tubing where you'll find 100% pure snow in 60-70 degree ambient temperatures. Tickets are sold in hourly increments and no reservations required. Maximum 375 lbs. to participate.

Monday-Thursday: 10 am-9 pm
Friday: 10 am-10 pm
Saturday: 9 am-10 pm Sunday: 9 am-9 pm
Rowdy Bear Mountain: You can't miss the outdoor 500′ tubing lanes with 70′ drop just off the Pigeon Forge Parkway between Local Goat and Memories Theater. Rowdy Bear offers snow tubing in the winter and summer tubing too, both offering speeds of up to 35 mph! Sessions are 90-minutes long and advance ticket purchases are recommended.

Monday-Sunday: 9 am-8:30 pm Verify hours on Facebook
Ice Skating
There's probably nothing that gives date night that "Hallmark Movie" feeling more ice skating. There's two locations in the Smokies to go glide across the ice and that's Ober Mountain and Wilderness at the Smokies.

Ober Mountain Ice Skating: This indoor rink is open year round, generally 10 am-7 pm or later. Tickets are $15 per person and skate rentals up to size 15 are available.

Wilderness at the Smokies Skating Rink: Outdoor 3,200 sq. ft. rink invites guest skaters for limited dates, offering tickets for under $20. Verify operating dates and hours on their Ice Rink web site.
While this winter activity guide is far from inclusive, we think it gives you a great place to start when planning your next getaway to Autumn Ridge. We hope you'll enjoy every moment you spend playing in the snow, visiting local coffee shops, and even whipping up a home cooked meal to savor in front of a cozy fire while you're here.
Save 15% on Your 2023 Winter Getaway to the Smokies!
Book a stay now through March 15, 2023
Save 15% with Promo Code: Autumn2023
Valid when booking a new reservation online or by telephone. Excludes holiday weekends.