Long Weekends in 2023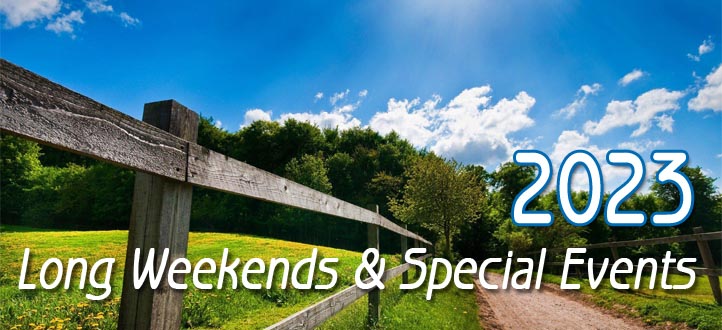 21
Nov
2022
Book Your 2023 Gatlinburg Vacation Cabin Early
While you're gathering with family and friends during the upcoming holidays, will goals and plans for the new year become a topic of discussion?  Just in case those goals include more time in Gatlinburg and Pigeon Forge, more mountains or more self care, we thought we'd give you a helping hand towards achieving success!  Knowing the top special event dates and long weekends in 2023 will help you determine getaway dates in advance so that you have the best availability to book your stay.  Looking to also put a little R&R under the tree this year?  Purchase gift certificates by calling (865) 436-4111.
Long Weekends in 2023
These are the anticipated long weekend dates for observance of Federal Holidays:
December 30-January 2:  New Year's

January 13-16:  MLK Day

February 17-20:  President's Day

April 7-9:  Good Friday / Easter

May 26-29:  Memorial Day

June 16-19:  Juneteenth

September 1-4:  Labor Day

October 6-9 (Anticipated):  Columbus Day

November 9-12  (Anticipated):  Veterans Day

November 22-26:  Thanksgiving

December 22-25:  Christmas

December 29-January 1:  New Years
Top Smoky Mountains Special Events 2023
These are the most popular events taking place in Sevierville, Gatlinburg and Pigeon Forge in 2023, so that means these are also the most sought after vacation dates.  Find the events you don't want to miss and then check availability in all of our six cabins.  You can book online or call for personal assistance.
2023 Car Show Dates:  Car shows in Pigeon Forge, Gatlinburg, Sevierville, Townsend and Cherokee
January 1-February 28:  Winterfest Christmas lights and displays will remain through February.
January 24-28:  Wilderness Wildlife Week
March 11-April 8: Dollywood's I Will Always Love You Celebration
Mid April:  Synchronous Firefly Viewing Lottery will open for Early June Dates
April 16:  Lee Greenwood Farewell Tour
April 21- June 4:  Dollywood's Flower & Food Festival
April 28:  Music in the Mountains Parade, Pigeon Forge
May 6:  Brucestreet Brewfest
May 6:  Smoky Mountain Bigfoot Festival, Townsend
May 19-20:  Sevierville Bloomin' BBQ Music & Food Festival
June 5-8:  A Mountain Quiltfest, Pigeon Forge
June 17-August 6:  Dollywood's Smoky Mountain Summer Celebration
June 23-24:  Hops in the Hills Craft Beer Festival, Maryville
Mid July:  Early Bird Ticket Sales for Grits & Grains Festival Begin
July 3:  Gatlinburg's 4th of July Midnight Parade
July 4:  Gatlinburg & Pigeon Forge 4th of July Celebrations and Fireworks
July 7-16:  Gatlinburg Summer Craftsmen Fair
July 22:  Smoky Mountain Bigfoot Conference, Gatlinburg
July 28-30:  Tennessee Sales Tax Holiday
September 22-November 4:  Dollywood's Harvest Festival & Great Pumpkin LumiNights
September 24-30:  National Quartet Convention, Pigeon Forge
October 5-22: Gatlinburg Fall Craftsmen Fair
November 4:  Grits & Grains Festival, Townsend
November 11-January 6:  Dollywood's Smoky Mountain Christmas
November 24-December 31:  Shadrack's Christmas Adventure, Sevierville
December 1:  Gatlinburg Fantasy of Lights Christmas Parade

Book Your Stay in Our Cabins near Gatlinburg and Pigeon Forge
B' s Nest | CJ's | Kelci Kabin | McKenzie Kabin | Maggie House | Nite Vu Cabin