2023 Car Shows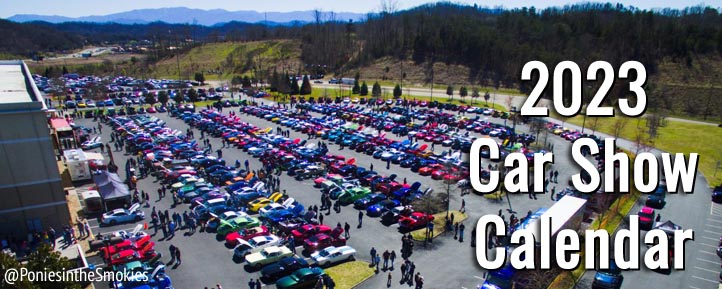 19
Aug
2022
Car Shows in Pigeon Forge, Sevierville and Townsend TN
Updated September 2023: It's going to be another great year for Sevier County car shows! Between Sevierville and Pigeon Forge, the car show schedule for 2023 is already jammed packed but that didn't stop us from including a few more events from outside the area. Not far but definitely worth the drive, you can explore more of the Smoky Mountains area with a road trip to Townsend, Newport and even Cherokee NC to see hotrods, classics and even European models. Find your must attend car show and then book your stay with us – convenient to both Pigeon Forge and Gatlinburg – up to one year in advance.
Make 2023 Cabin Rental Reservations Today!
B' s Nest | CJ's | Kelci Kabin | McKenzie Kabin | Maggie House | Nite Vu Cabin
2023 Car Show Calendar
March 21-25 | Ponies in the Smokies: Sevierville Convention Center. Indoor and outdoor car show, vendors, swap meet, car corral, Shine Run and All-Ford Cruise In.
March 24-25 | 46th Annual Corvette Expo: LeConte Center. Swap meet, sales corral, Park 'N Show, and Corvettes Cruise the Dragon.
March 24-25 | Chevelles in the Smokies / Horsepower & Hot Rods: LeConte Center. Car show, swap meet, car corral and indoor/outdoor vendors.
April 13-15 | Spring Pigeon Forge Rod Run: LeConte Center. Cruisin Pigeon Forge, indoor show arena, outdoor vendors, and free spectator parking.
April 27-29 | Smokey Mountain Street Dreams: Townsend Visitors Center. This car and motorcycle show is an absolute must-see! Cash prizes and awards. Free parking.
May 13 | Springtime in the Smokies British Car Show: Annual gathering of European automobiles and motorcycles at Tally Ho Inn, Townsend TN.
May 18-20 | Grand National F-100 Show: LeConte Center. For F-100 and F-150s older than 1996 and featuring the ultimate Parkway Cruise through the Smokies from Pigeon Forge to Gatlinburg.
May 27-28 | Slammedenuff Gatlinburg Car Show: Join other 'slammed' owners showcasing their vehicles so low they sit just inches or less above the ground. Sevierville Convention Center.
August 24-26 | Great Smoky Mountain Jeep Invasion: LeConte Center. Thousands of Jeeps will descend on Pigeon Forge! Indoor and outdoor show, vendors, and Jeep tours.
April 19-22 | Bronco Super Celebration: Townsend TN. Bronco show, daily drives, awards and on-site activities.
April 21-22 | Spring Cherokee Rod Run: Poker walk and cruise, cash and prize giveaways, food and live music. Cherokee NC
June 1-4 | Pontiacs in Pigeon Forge Car Show and Swap Meet: 23rd Annual Car Show featuring some of most impressive Pontiacs you'll ever see. LeConte Convention Center, Pigeon Forge.
June 16-17 | Moonshine Rod Run: The Hard Times Street Rod Club will host it's annual Moonshine Rod Run the 3rd weekend in June at the Newport City Park.
July 15-16 | Knox Volks Motor Club Summer Jam 14 Volkswagen Car Show: Embracing every type of Volkswagen fan imaginable, from the die-hard air cooled fanatic purist to the admirer of today's watercooled beauties.
August 19 | Shadow of the Mountains Car Show: Enjoy a day of hot rods, great food, and fun games. All Make and Models are welcome and interested. Newport City Park, Newport TN.
August 25-26 | Hillbilly Rods Open Car Show: Event is at the Cherokee Fair Grounds, Cherokee NC and open to all cars and trucks of all years, makes and models.
September 14-16 | Fall Pigeon Forge Rod Run: LeConte Center. Fall show will feature "Fastbound and Down," the ultimate Smokey and the Bandit Tribute.
September 15-16 | Smoky Mountain Truck Fest: Extreme trucks of all heights and sizes gather at the Sevierville Convention Center.

September 21-24 | Okteenerfest 2023: Porsche 914 Car show, driving, awards, and door prizes at Townsend Abbey.
September 30-October 1 | Slammedenuff Gatlinburg Car Show: Join other 'slammed' owners showcasing their vehicles so low they sit just inches or less above the ground. Sevierville Convention Center.
October 7-8 | Circle Yer Wagens: Two day all VW show with huge swap meet & riverbank camping in the show area at Sevier County Fairgrounds.
October 13-14 | Cruise the Smokies Fall Rod Run Cherokee: Fall Cruise the Smokies at Cherokee NC Welcome Center. Come check out Butch Patrick and the Munster Koach!!! Free Admission to Spectators
Book Your Stay in Our Cabins near Gatlinburg and Pigeon Forge
B' s Nest | CJ's | Kelci Kabin | McKenzie Kabin | Maggie House | Nite Vu Cabin