Dolly Parton Christmas Movies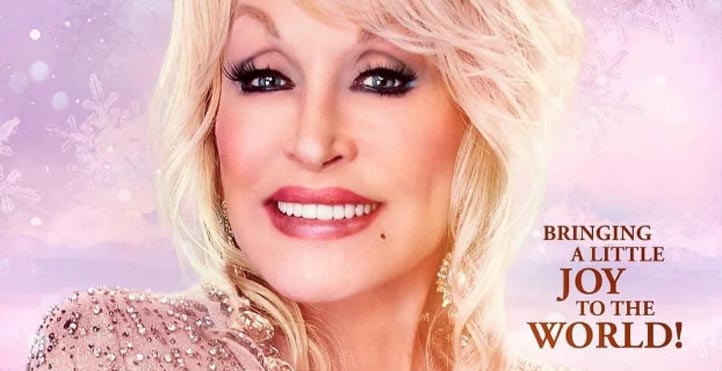 11
Nov
2022
Have a Smoky Mountain Magic Christmas
Is there anyone who creates more magic and warmth for Christmas than Dolly Parton herself? We think not. While we may be just a little biased, we'd venture to say not only in East Tennessee but across the entire globe!

Dolly has made Dollywood's A Smoky Mountain Christmas Festival a family tradition since its debut in 1990. Fast forward to 2022 and the festival has grown to adorning the entire park in more than 6 million Christmas lights. When you head to Dollywood this Christmas, there will be Christmas cheer, lights and sights merry & bright, and all things Christmas Magic!!
You know where we're going with this, right? It's almost time for the airing of Dolly's newest made for television movie, "Mountain Magic Christmas."

This past summer, she invited family members and some of her favorite friends to Dollywood to film her seventh holiday movie. Cast members include Tom Everett Scott, Willie Nelson, Zach Williams, Billy Ray and Miley Cyrus, Cassie Parton and Rachel Parton George, to name a few.

"… follow Dolly Parton's desire to uplift an exhausted world's spirits by sharing the unique "mountain magic" she has always found in and around Dollywood at Christmas. Throughout the movie's production numbers and rehearsal chaos, Parton finds herself taking a private journey into her past, guided by the mysterious appearances of her personal Three Wise Mountain Men. When it's time for her big special to air, a renewed and inspired Dolly goes rogue and shows the world that the real magic of Christmas lies in the hearts of the children we all once were, the realization that Christmas is about the people we share it with, and how her faith remains the common thread between Christmases past, present, and future." ~ IMDB

The two-hour "Mountain Magic Christmas" movie will air December 1 at 8 p.m. on NBC.
What will you watch in the meantime? Let us suggest you kick off the Christmas movie marathon with one of the six other Dolly Parton movies made specifically to stir up your holiday spirit and brotherly love. Here's the titles with synopsis provided by IMDB:

Dolly Parton's Christmas of Many Colors: Circle of Love (2016)
"An unexpected blizzard threatens the Parton family, while at the same time Dolly's father (and his kids) make sacrifices to raise enough money to finally buy his wife the wedding ring he could never afford to give her. Meanwhile, an important person in little Dolly's life begins to see that her amazing voice and musical gift might just be made for something bigger than rural Tennessee."

Coat of Many Colors (2015)
"Discover the magic and warmth of Dolly Parton's Coat of Many Colors, based on the inspiring story of living legend Dolly Parton's remarkable upbringing in rural Tennessee."

A Country Christmas Story (2013)
"A teenage chorister from a small Appalachian town dreams of becoming a country music star."

Joyful Noise (2012)
"G.G. Sparrow faces off with her choir's newly appointed director, Vi Rose Hill, over the group's direction as they head into a national competition."

Unlikely Angel (1996)
"Dolly Parton portrayed a country music performer who meets an untimely demise, but cannot enter heaven until she performs a good deed back on Earth, to get a workaholic widower and his children back together again for Christmas."

A Smoky Mountain Christmas (1986)
"A country and western singer on a trip through the Tennessee mountains runs into a reclusive backwoodsman, and a witch."
Want to watch her newest movie while sitting in her hometown in front of a crackling fire? These cabins are available for a stay including December 1:
Maggie House | McKenzie Cabin | Nite Vu
After you book your stay, check out 'Dining at Dollywood' and 'Dollywood Souvenir Shopping'