5 Festivals and 1 New Ride at Dollywood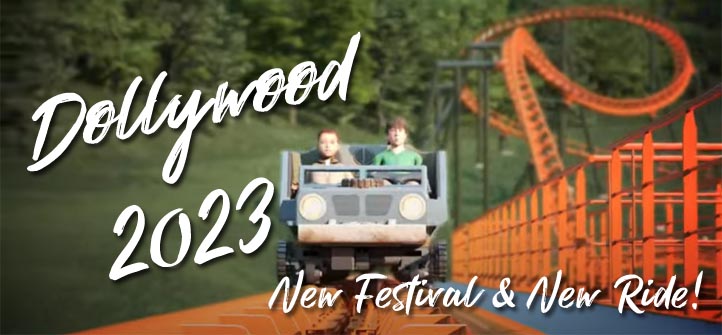 09
Feb
2023
Dollywood 2023 Roller Coaster & Seasonal Celebrations
Dollywood is set to open its doors for the 2023 season to annual pass holders March 10 and everyone else March 11.  This year welcomes visitors with not only one new festival but also their longest roller coaster.

The Big Bear Mountain, Dollywood's newest coaster, opens this spring and will feature twists and hills and drops for three quarters of a mile!  You read that right… three quarters of a mile. 3990 ft. of track accommodates "4-wheel drive SUVs" for speeds of up to 48 mph taking off from Wildwood Grove's Adventure Outpost Base Camp.
While we don't have an exact date for the debut of Big Bear Mountain, we do know that the new "I Will Always Love You Celebration" festival will kick off the general public's opening day on March 11 and run through April 8.

This brand new festival is a tribute to and celebration of the 50 year anniversary of Dolly's song "I Will Always Love You," which hit #1 on billboard charts TWICE!  Not only will the celebration commemorate the stories behind songs and the art of songwriting itself, but it will also bring up-and-coming singers and songwriters headlining performances throughout the park.
Tips for making the most of your Dollywood vacation fun?  Enjoy plenty of dining and food options and shopping at Dollywood's boutiques and souvenir shops.
Book a Stay During Your Favorite – or ALL – Dollywood Festivals
Other Festival Dates
Flower & Food Festival:  April 21–June 11
Smoky Mountain Summer Celebration with Dance & Drone Show:  June 17–August 6
Harvest Festival & GREAT Pumpkin LumiNights: September 20–October 30
Smoky Mountain Christmas:  November 4–January 6, 2024
Click to View Dollywood 2023 Calendar
Have a sneak peek at Big Bear Mountain Roller Coaster and we'll see you this spring!