Patriot Park Pigeon Forge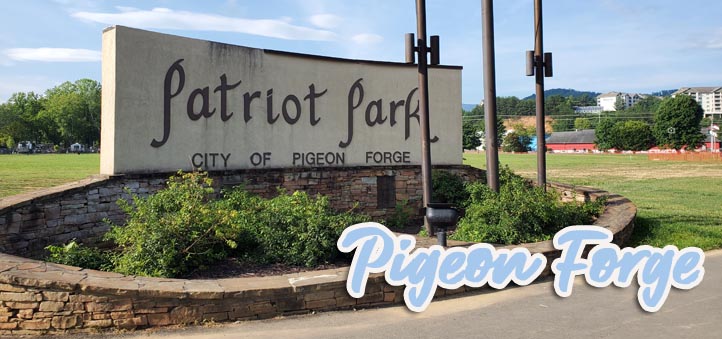 15
Jul
2023
Relax, Walk and Picnic in Pigeon Forge
Any vacation to Pigeon Forge is not complete without a visit to Patriot Park. Located along the Little Pigeon River at traffic light #7 – adjacent to The Old Mill and Old Mill Square – is the city's most visited park.
Patriot Park has recently undergone a complete renovation to better serve visitors and residents alike. This includes a brand new trolley depot, with a safer traffic pattern for entering and exiting a trolley, and more covered seating for waiting riders. And the trolley depot is bigger and better than ever. It's safe to say, the restroom renovations were so long needed that these just might be a highlight! (For those who know, know!)
The walking path around the park has been completely leveled and repaved, and is now .25 miles in length. This path is part of the Riverwalk Greenway, which extends a full 4 miles! Leave the parking area and pass the Old Mill Farm House Kitchen on Butler Street and head towards The Island. You'll stroll along the West Prong of the river, passing LeConte Convention Center, winding through The Island, and looping around the old City Park near the Pigeon Forge Community Center. The greenway is also lighted so that you can walk day or night!
Patriot Park is not only the transportation hub for traveling around the county, it's a great place to picnic, shop, or dine in top restaurants.
There is a picnic pavilion with several picnic tables and a cold drink machine right next to the river where you can eat while watching ducks, geese and pigeons. If you prefer to throw down a blanket in the grass, there is ample room for that too! * Please don't feed bread or bread products to the wildlife. Purchase pellets from the available vending machines or bring cracked corn to keep our animals alive and healthy. *
Rather have some good southern cooking? Eat at The Old Mill Restaurant or the Old Mill Pottery House Cafe and then browse through all the shops of Old Mill Village.
We recommend setting aside at least half a day to enjoy all there is to do at and around Patriot Park Pigeon Forge. If there are special events taking place, you'll want to make time for those too.
If you'd like additional suggestions for fun things to do in Pigeon Forge, flip through our blog or call our office at (865) 436-4111 for personal recommendations.