Pigeon Forge Old Mill Square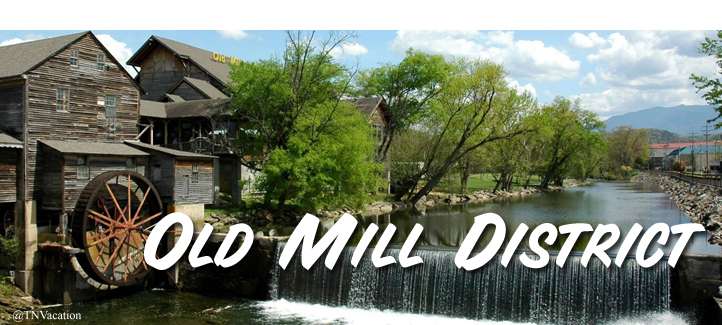 10
Oct
2021
Pigeon Forge Old Mill Square
If you've ever visited Pigeon Forge, you know where the Old Mill is. It's easily one of the most recognizable landmarks when giving or receiving directions to anywhere in the area. While the Old Mill itself is a focal point in Pigeon Forge for both its history (it's listed on the National Register of Historic Places) and popularity, it's the place to go to start your afternoon of shopping, dining and relaxing! Old Mill Square – or Old Mill Historic District – also serves as a 'hub' for Pigeon Forge, as this is where you'll find Patriot Park, host to many seasonal events, and the Pigeon Forge Trolley Station just off the Parkway at traffic light #7.
You can easily plan the better part of a day here, or just stroll through in between your jaunts on and off the trolley. Here's a quick summary of all the things available to you at Old Mill Square:
Restaurants
Old Mill Restaurant – Family-style dining next to the Little Pigeon River. Serving breakfast, lunch and dinner in a rustic atmosphere from 8 a.m.-9 p.m. or later. Most famous for their homemade, southern dishes. Old Mill Restaurant Menu
Old Mill Pottery Cafe – One of our favorites for lunch (but open for supper too!) with indoor and outdoor dining. Every meal is served in handmade Pigeon River Pottery dishes and the atmosphere is welcoming and relaxing. They are known for their homemade bread, lunch combos, and hearty soups and sandwiches. Open for brunch on Saturday & Sunday from 10 a.m.-2 p.m., and daily from 11 a.m.-9 p.m. Pottery House Cafe Menu
Sweet Treats
Old Mill Creamery – Old-fashioned ice cream treats! Sit outdoors at one of the several umbrella tables near the 'wishing well' and enjoy scoops, cups, cones, shakes and sundaes. They even incorporate flavors from the adjacent Candy Kitchen and Old Forge Distillery. Signature flavors include Oat Mill Pie, Banana Pudding, and Whiskey Ribbon. Yum!
Old Mill Candy Kitchen – Handmade, homemade candies and sweet treats including their famous fudge in a variety of flavors.
Shops
Old Mill Farmhouse Kitchen – A great variety of tools, utensils, and cookware ideal for any southern home or home cooking. This store features Old Mill Restaurant and Pottery House Cafe recipe mixes including breads, soups and salad dressings. Stop here and take some of the Old Mill home with you!
Sassafras – Unique boutique with clothing, accessories, and gifts for every occasion.
Old Mill General Store – Just what you'd imagine from an old-timey general store. Food, souvenirs, gifts and vacation needs all found in one convenient place.
Pigeon River Pottery – Formerly Pigeon Forge Pottery and a must-shop destination while you're in town. You'll find every type of pottery you can imagine from a spoon rest to the bathroom sink in a variety of sizes, shapes and colors. Both decorative and functional, these are pieces your family will cherish for generations.
Distillery
Old Forge Distillery – Using freshly ground grains from the Old Mill gristmill, Old Forge Distillery creates moonshine, bourbon whiskey, liqueurs, gin and rum. The distillery invites you to sample products, visit the cocktail bar for signature drinks, and shop for bottles, pints and gifts.
Tours
The public is invited to take a tour of the historic 200-year old Mill Tuesday-Saturday. Tours take place every 30 minutes and tickets are available at the Old Mill General Store.
Special Events
Throughout the year, the Old Mill District will host special events that are family friendly, entertaining and educational. Old Mill Heritage Days, Holiday Open House, Breakfast with Santa, Breakfast with the Easter Bunny, and kid's crafts and bakery dates to name a few.
Patriot Park
Probably the most popular park in Sevier County and the location of the main trolley depot. The park is undergoing major renovation to offer a visitors area, new restroom facilities and an all new trolley depot.  It's a great place to relax, have a picnic, feed the ducks and pigeons, or take a leisurely stroll along the walking path. The major Pigeon Forge events held here include the 4th of July Patriot Celebration, Rotary Club Craft Fair, and Winterfest Kickoff.
When staying at Autumn Ridge cabin rentals, you're less than 10 miles from the Old Mill District's food, shopping and fun. Choose your cabin and book your stay today!
Visit These Other Shopping & Dining Destinations in Pigeon Forge
Strip Malls & Shopping Centers  |  Teaster Crossing  |  Mountain Mile