Smoky Mountains Christmas Lights and Light Tours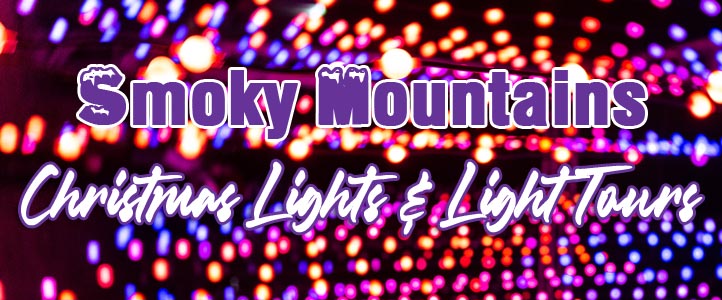 31
Oct
2023
Nights of Lights Tours In and Around Gatlinburg and Pigeon Forge
It's getting harder and harder to determine the best season to visit the Smoky Mountains!  Spring brings the Great Smoky Mountains National Park to life with green leaves and wildflower blooms; summer welcomes all with outdoor adventures, car shows and summer festivals; and fall speaks for itself in tones of orange, red and yellow.  But winter, now that's when things get very merry and bright! Our Smoky Mountains Winterfest Celebration begins November 9 and lasts through February 18, 2024.

Across the entire county – and even areas nearby – it's Christmas lights galore!  Lights will hang from telephone poles, street lamps and bridge canopies, and will cover bushes and trees. Many individual businesses and attractions put on their own special events giving you an opportunity to have a whole lot of fun in creative, festive ways.  But what makes Sevierville, Gatlinburg and Pigeon Forge unique are custom light displays.  These roadside displays help make every inch of Sevier County a destination and have become such a tradition that even maps are provided.

We want to help you make the most of your winter vacation in the Smokies and have a handy compilation of how and where to see all the Christmas lights and light displays you could possibly want.  You can easily plan for multiple nights of lights tours so that you don't have to rush.  Make a thermos of hot cocoa, grab some snacks and go!!
Book Your Winterfest Vacation Cabin
B' s Nest | CJ's | Kelci Kabin | McKenzie Kabin | Maggie House | Nite Vu Cabin
5th Night FREE!
Book 4 consecutive nights Sunday-Thursday, receive a 5th night FREE
Valid when booking a new reservation online or by telephone for stays Sunday-Thursday now through December 22, 2023. Free night will be the lowest rate night. Excludes holidays.
See Our Rates and Specials page for additional cabin discounts and promotions.
Pigeon Forge Christmas Lights
In addition to the Pigeon Forge Winterfest Driving Tour of Lights, you can also indulge in the Wonder of Lights Walking Trail that follows the Riverwalk Nature Trail.  Download the Pigeon Forge Christmas Lights map for roadside light displays and the Wonder of Lights Walking Trail map so you don't miss a thing!  Two locations where you can enjoy plenty of lights without driving anywhere are the Patriot Park and Old Mill Square area and also The Island.
Redneck Comedy Bus Christmas Lights Tour
Prefer to let someone else drive?  Make it an event!  Dress up in your favorite ugly sweater and board the bus at Lumberjack Square for a night of Redneck Christmas festivities!  Tour lasts approximately two hours and features Patriot Park and The Island. 
Smoky Mountain Jeep Tours
This semi open air / heated Jeep tour will take you through Pigeon Forge and Gatlinburg for an unforgettable fun-filled nighttime lights tour.  This tour is also approximately two hours long, depending on traffic.
Dollywood's Smoky Mountain Christmas
Christmas tradition is alive and well at Dollywood.  In addition to the entire park being adorned in Christmas lights, holidays shows, rides and tasty comfort foods, you'll want to catch the new "JOYFUL! Season of Light" Christmas drone show.  All holiday lights and activities are included with your admission ticket.  November 4 – January 6, 2024
Gatlinburg Christmas Lights
To experience the Gatlinburg Winter Magic Lights Tour, grab your Gatlinburg Christmas lights map and 'sled' around town taking in all the sights from the River Road Riverwalk Arches street-side light displays to individual attractions pulling out all the stops with their own versions of Christmas spirit and winter magic.
Enchanted Christmas at Anakeesta
November 10 – January 1, 2024, Anakeesta becomes a mountain-top Christmas village with Christmas lights, holiday music, synchronized music and lights displays, and a glimmering forest TreeTop Skywalk. You'll definitely want to get a hot cocoa or coffee and sit by a warm fire! Enchanted Christmas is included with your admission ticket.
Lights Over Gatlinburg at Gatlinburg SkyPark
A 32′ Christmas tree, holiday decorations and the SkyBridge Tunnel of Lights make SkyPark a magical destination in the sky!  The Lights Over Gatlinburg event is included in your admission ticket.  9 a.m.-9 p.m. November 9 –  January 31, 2024.
Sevierville Christmas Lights
From the moment you enter Sevierville from I-40 Exit 407, you'll see Christmas lights!  These lights are found on major routes throughout the city.  Grab your Sevierville Christmas Lights map, keep driving and be delighted by all the whimsical, roadside displays you see.
SkyLand Ranch Festival of Lights
SkyLand's Festival of Lights features extravagant light displays seen from their chairlift ride, life-sized Nativity, illuminated tunnels, yard games and even Christmas Movies! While riding the chairlift is not required, it will greatly enhance your experience and enjoyment of the all the light displays.  November 3 – February 18, 2024, 6-9 p.m.  Reservations are required. 
Scenic Helicopter Winterfest Night Flight
This will definitely having you see Christmas in a whole new light!  From this 30-minute flight you'll see Pigeon Forge, The Island, and Dollywood lights.  Bring your camera and per Scenic Helicopters web site, "light-colored clothing reflects on the transparent windows and can cause undesirable flares in your photos. This is why it is recommended to wear dark clothing when riding in a helicopter.)  Flight departs from their pad on Winfield-Dunn Parkway. Flights scheduled for 5:30 or 6 p.m.  November 12 – February 18, 2024
Shadrack's Winter Wonderland at Soaky Mountain
Drive-thru light show with synchronized holiday music and lights.  There's also a Snowy Mountain Village with games and food and Santa himself!  This is an extremely popular event so just know that it's well worth your patience to take this tour.  Purchase tickets on sight or in advance to save $5.  November 17 – January 7, 2024, 6-10 p.m. or later.
Book Your Winterfest Vacation Cabin
B' s Nest | CJ's | Kelci Kabin | McKenzie Kabin | Maggie House | Nite Vu Cabin