Locally Owned Ice Cream Shops Pigeon Forge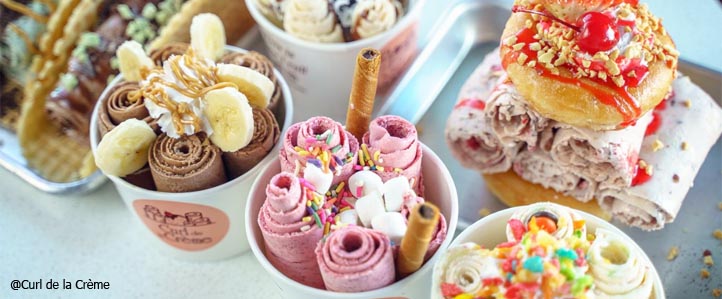 17
Jun
2022
Local Ice Cream Shops, No Chains Here
When you're on vacation, you likely want to 'shop with the locals' and these ice cream parlors are where you can do just that! Family owned and operated, these Pigeon Forge ice cream shops offer home made recipes, unique flavors and even unheard of ice cream toppings for some of the most unique frozen treats you'll ever try. One, two or three scoops for you?
Curl de la Crème Ice Cream Parlor
(865)-286-9230
Family owned ice cream parlor, bringing Rolled Ice Cream from New York to the South. Select the mix-ins – such as fresh fruit or baked products – and watch as fresh cream is poured onto a frozen pan. The mix-ins and cream are then mixed, pressed, and rolled before your eyes, and finished with up to 3 toppings.

Google Review: " Dairy and Vegan options. Took grandkids since have dairy allergies and able to enjoy a treat. Folks were friendly and rolled ice cream was great. Wife and I split waffle bowl and because it was huge."
Kountry Kreamery Ice Cream Shop
(865) 774-8008
The only place in the Smokies where you can get Olive Oil and Balsamic Vinaigrette swirls on your favorite flavor or in a shake! Serving 32 flavors of Hershey's Ice Cream by the scoop, or in sundaes, milkshakes & malts, smoothies and floats! Vegan ice cream and gluten free cones available. Try a scoop or two in a pretzel or cookie cone, home made waffle cone, dipped and decorated cake cone or in a souvenir mug.

Google Review: "Great tasting ice cream and excellent customer service! The owner gave us suggestions and we loved everything he had us try! We got ice cream with mint olive oil and one with apple balsamic vinaigrette , who knew it would taste so good. Wished I lived here so I could go more often!"
Mad Dog's Creamery
Pigeon Forge (865)774-5558 | Gatlinburg (865)430-5757
Locations in both Pigeon Forge and Gatlinburg, serving 24 flavors of Tennessee's own Mayfield Dairy Ice Cream. Hand scooped and soft serve ice cream, shaved ice, milkshakes, sundaes and donuts. Did someone say Cotton Candy Burrito? Doggie treats too!

Google Review: "Great ice cream stop! Helpful staff that let us try ice creams before our finally choice. They also helped us with our coupons. Potions where very nice and prices are reasonable. The banana split looked just as good as it tasted. The black cherry ice cream was deliciousness!"
Scoops Ice Cream Parlor
(865) 366-1373
Homemade Ice Cream with may UNIQUE flavors to choose from in cups, cones, shakes and specialty sundaes. Try Lemon and Cantaloupe for a wonderful burst of fresh flavor! Custom ice cream cakes are a specialty. Located next to the Food City and Marshall's on Teaster Lane in Pigeon Forge.

Google Review: "The ice cream is absolutely homemade, amazing, goodness! Any flavor is a win! The owner is very friendly also. Don't go anywhere else for your ice cream cravings."
Check back soon as we'll be adding local ice cream shops in Gatlinburg and Sevierville to our blog too! In the meantime, click for 6 local coffee shops in Gatlinburg and locally owned restaurants.