Get Married in Gatlinburg

15
Jan
2019
Wedding and Honeymoon Cabins
Our romantic cabins are not only perfect for honeymoons, but intimate weddings too!
Located between Pigeon Forge and Gatlinburg on 8 private acres, all of our cabins feature a King bedroom with in-room Jacuzzi tub, a woodburning fireplace (November-April) with wood provided, one full bath, full kitchen, and a nice deck with rocking chairs and hot tub.  They are quiet, beautiful… and most importantly, romantic.
Nite Vu Cabin | Maggie House | McKenzie Kabin | Kelci Kabin | CJ's | B's Nest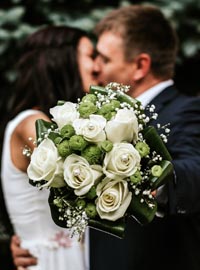 There are several local, traveling ministers available who will perform an intimate cabin wedding ceremony.  There are several packages from which to choose, starting with a quaint, simple ceremony for just $75.
Pastor Rob at Smoky Mountain Wedding
http://www.smoky-mountain-wedding.com/
Dan, Ordained Minister, at Hillbilly Weddings
https://www.gatlinburghillbillyweddings.com/
Reverend Adam at Elope to Gatlinburg Smoky Mountain Weddings
https://www.elopetogatlinburg.com/
Congratulations on your engagement and we wish you a life filled with all the love imaginable!
Photo Credit: Rocsana Nicoleta Gurza