Gatlinburg Maps

01
Jan
2019
Map Your Way through Gatlinburg
Updated 2022: Apps and all things electronic are super cool and convenient, but there's also something to be said for looking at a map sprawled before you to help you get your bearings. GPS can be very tricky, and even misleading, in the mountains. Once you've got the 'big picture,' you'll find that navigating Sevierville, Pigeon Forge and Gatlinburg is really very easy. One of the best things going for the area is numbered traffic lights! You'll find these extremely helpful, especially in times of heavy traffic.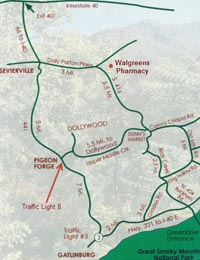 Here are a few Gatlinburg area maps that will interest you:
Map & Directions to Autumn Ridge Vacation Rentals
Great Smoky Mountains National Park Maps
Park map, trails map, campgrounds map, topographic map
Map of Gatlinburg or 2022 Map of Gatlinburg
Gatlinburg Parking Map – Printable
Gatlinburg Parking Map – Interactive
We hope you have safe travels and get to see and do everything you want while you're here!