Gatlinburg Chili Cookoff & Bush's Beans Chili Recipe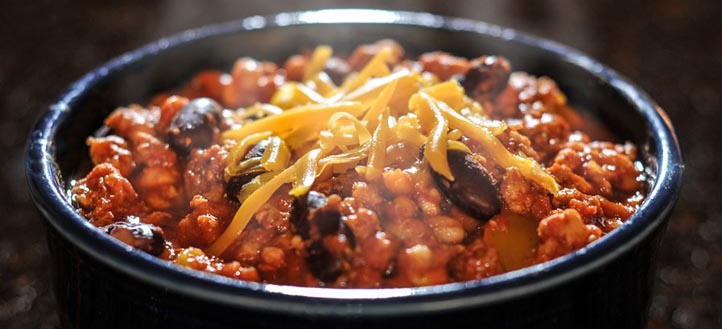 31
Oct
2019
Best Chili Recipe Wins! 
It's time once again for the decades-long Chili Cookoff presented by Bush's Beans that takes place in downtown Gatlinburg.  This year, the tradition continues on November 6 from 5-8 p.m.
Ticket booths open at 3 & 4 p.m., where you can purchase your tasting spoon and get ready to enjoy chili samplings from area restaurants and distilleries, all vying to be voted the winner!  The evening will include live musical performances, activities and more, all included with ticket purchase.  Bluegrass band The Grassabillies kick off the night's musical entertainment at 5:15 p.m., followed by renowned Bon Jovi tribute band Slippery When Wet at 6:15 p.m.
Can't be here but have a hankering for a best chili recipe?  Try this Bush's Beans All-American Chili recipe, made with their famous slow-simmered in chili sauce.
Ingredients:
2 cans (16 oz) BUSH'S® Chili Beans
1 lb Ground Beef
1 cup Chopped Onion
1 cup Chopped Green Pepper
1 can (14.5 oz) Diced Tomatoes
1 can (6 oz) Tomato Paste
1/2 cup Water
1/4 tsp Black Pepper
1 tsp Salt
1 Tbsp Chili Powder
2 tsp Oregano
1 tsp Sugar
Shredded Cheddar Cheese
Directions:
In large pan, cook beef, onion and green pepper until meat is browned. Drain excess grease.
Stir in remaining ingredients, except cheese. Bring to boil. Cover, reduce heat to low and simmer for 20 minutes.
Garnish with Cheddar cheese.
Print this recipe and others at Bush's Beans Website.  Did you know that Bush's Beans Visitor Center is a free attraction featuring a museum, gift shop, Family Cafe and free photos with Duke?  Check it out!