Pirates Voyage Dinner Show

01
Mar
2019
New Show in Pigeon Forge!
Dolly Parton's hit Myrtle Beach dinner show is opening in Pigeon Forge this spring. Anticipated opening date is May 24, 2019.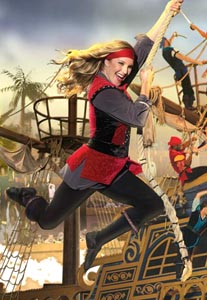 The Pirates Voyage Pigeon Forge dinner show will be located near The Island in Pigeon Forge in the former Lumberjack Fued and Celebration! Show location. Once complete, the new Pirates Voyage will encompass the 21,000 sq. ft. arena complete with a full-size pirate ship. You'll witness lagoon and deck battles, fierce competitions, live animals, mermaids and powerful pyrotechnics!
While the dinner menu is not yet available, the mighty feast is likely similar to the Myrtle Beach meal that includes Voyager cream soup and Buccaneer bread, roasted chicken and BBQ pork, basted potato and apple pie.
Reserve your Pirates Voyage seat now! Book online or call Ticket Sales at (844) 322-4400.
Photo Credit: Dolly Parton Pirates Voyage Dinner & Show